DIGITALIZATION
Artificial intelligence
"We're coming up with entirely new questions"
Germany's leading AI researcher, Kristian Kersting, and Nexplore CEO David Koch would like to bring artificial intelligence into the construction industry. In this concepts interview, they talk about the cooperation within the "Artificial Intelligence in Construction" (AICO) research project at TU Darmstadt.
concepts Mr. Kersting, how would you explain to a layperson exactly what artificial intelligence (AI) is?

Kristian Kersting According to the original definition by John McCarthy, it means we want to have computer programs that engage in or simulate intelligent behavior. They don't necessarily have to be modeled on human beings. Just think of autonomous driving, for example. If we modeled autonomous driving solely on human beings, we would probably have just as many accidents as we do now.
concepts Where can we find AI today?
Kersting If your smartphone is activated via face recognition, AI is at work. It's also behind voice-activated assistants. When you say a sentence, that sentence has to be understood. Understanding spoken language is a very difficult task. Thanks to AI, today we're also seeing exciting breakthroughs in biology, medicine, and biochemistry.
concepts Mr. Koch, how can AI be used effectively in the construction industry?

David Koch We're pretty much at the start of this development, but we can already see how AI can help us in many ways—especially in areas where we can gauge quality by means of image recognition. One important topic is the automatic monitoring of construction progress. This task needs intelligent systems that can make deductions on the basis of images, videos or point clouds. Or take safety. We're working on a use case in Hong Kong involving the safety distance from heavy machines. Camera systems are installed on the building machines, and the workers have bracelets that emit vibrations and acoustic signals as soon as they enter a danger zone. Another of our areas, robotics, is also being strongly affected by AI systems.
concepts What AI projects is HOCHTIEF working on together with Mr. Kersting and TU Darmstadt?
Koch We have jointly established the AICO Center. This acronym stands for Artificial Intelligence for Construction. It's based on a program that we refer to in-house as a "dual PhD." This is a more practice-oriented integration of PhD candidates, who temporarily work with us to develop concrete solutions while they are writing their dissertations. This is a relatively new system.
Kersting The "dual PhD" is an exemplary system for building new partnerships to work on digitalization issues. Here "knowledge transfer" means not only sharing research results but also sharing ideas. In the future HOCHTIEF will need its own AI team, but it won't materialize out of thin air. It's very important to be in contact with the right people at an early stage and to build a shared understanding.
Koch Of course we also hope that we can develop products and applications along the lines of current research. For example, we've got a project that deals with possible risks in contract analysis. This is an automated tool that reads contracts and then classifies the risks they harbor.
concepts How extensive is the kind of contract you're talking about?
Koch Construction contracts can be up to 20,000 pages long. As a result, they have a certain susceptibility to errors. But here the AI system provides us with substantial support for the revisers and project managers.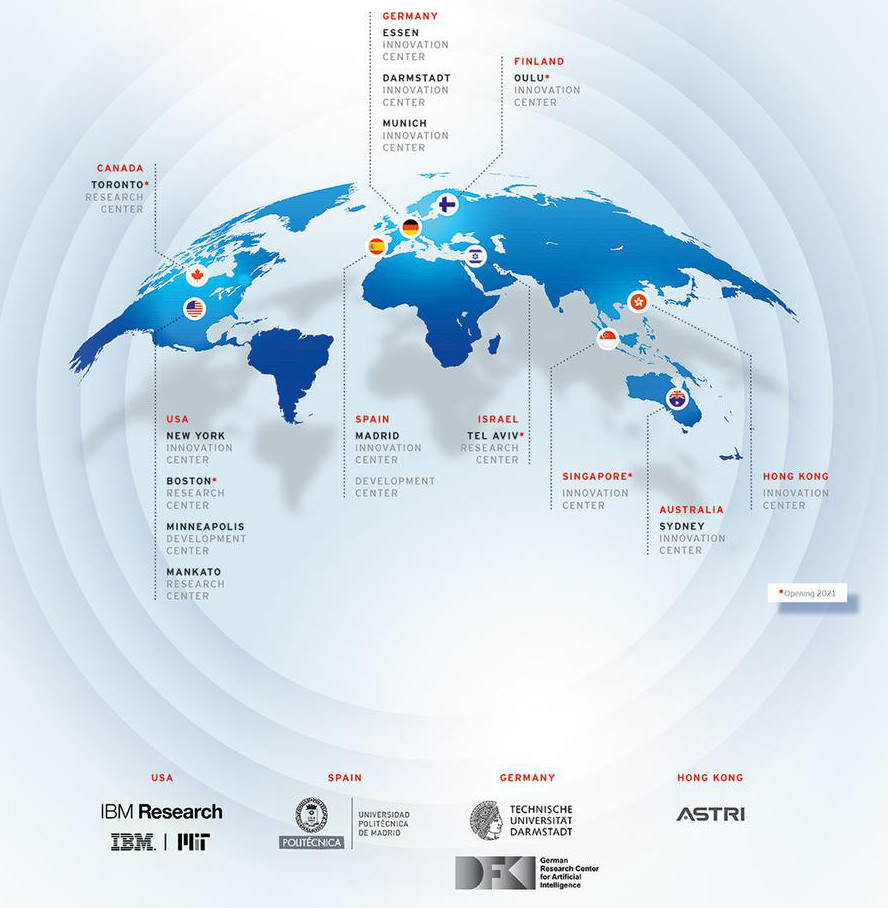 concepts Can you give us any other examples?
Koch We're conducting an exciting project in which we want to apply deep learning in BIM models to simulate information that may be missing or information we don't yet have. This is a very promising use case, because the construction industry is a complex business in which many partners work together. There are potential sources of error due to documents that have not been fully coordinated, plans that have not been thoroughly worked out, or problems with communication.

concepts So is AI being used to identify potential conflicts in BIM models?
Koch That's right. If we could use AI to simulate such models ahead of time and consolidate them, there would be considerably lower risks and optimized processes on construction sites. We're also conducting two projects in the area of robotics. In the first one we're working with autonomous devices—in other words, drones, carriages or a robot dog—that patrol construction sites and automatically identify certain situations. In the second one we're working on operations that require some kind of sensor system, or possibly even touch-sensitive robots, that can install things with precision.
concepts Mr. Kersting, is the collaboration also bringing benefits to TU Darmstadt?
Kersting I did my postdoc work at Massachusetts Institute of Technology (MIT), and there I saw how companies and people from other specialized disciplines would come by and present their problems. These discussions are a challenge for you as a scientist and make you address completely new questions. And that's exactly what I'm seeing in the collaboration with HOCHTIEF. You discuss the problems with someone, and both of you suddenly get a glint in your eyes because you realize that this is where you might be able to create a win-win situation.
concepts Are you looking for a combination of fundamental research and applied research?
Kersting That's exactly what's happening here! All of these projects have a very strong research component. We're developing general concepts that our doctoral candidates then apply to special data and problems at HOCHTIEF. The robot dogs that survey the progress of construction work and might also identify danger points have already been mentioned. Now the next task is to link these data with the BIM system. That will definitely happen in the future. And this brings us to some aspects that are being intensively discussed today in international AI research, for example by the Nobel laureate Daniel Kahnemann: how to bring together deductive thinking and knowledge of the world with learning and action. As you can see, together with HOCHTIEF we are bringing joy to fundamental and application-oriented researchers alike.

concepts Are there special aspects of digitalization processes that are unique to the infrastructure and construction industry? Aren't other industries already more digitalized?
Koch An article in the Harvard Business Review puts us in the next-to-last position when it comes to digitalization. The only industry beneath us is Fishing and Hunting. Digitalization hasn't really penetrated the construction industry yet, because our business processes are so difficult. It's a project-oriented business. This means that for each new project there are new conditions, new project tasks, and new partners. Besides, the tasks are very complex and are subject to a dynamic process of change. Previously available digitalization technologies can't cope with these challenges. But that situation is changing, thanks to the revolution sparked by AI, new programming technologies, and devices such as drones. Our advantage today is that we don't have any legacy system of outdated technologies in this area. In the construction industry we can develop new systems that address the current state of technology.

concepts What will the work done on construction sites, as well as in planning and construction management offices, look like ten or twenty years from now?
Koch In the near future, the focus will be on optimizing processes. The new technologies will help to ensure stable costs, scheduling, and quality. They may also slightly reduce construction costs. At the next stage, the focus will be more on automation, first by means of robotics and secondly via more extensive prefabrication and modularization. The topic of 3D printing could become very significant in this area. If that happens, construction will at some point become a kind of assemblage process, in line with the current catchphrase "construction as assembly." That will happen in about the next ten to fifteen years. At that point we'll also have many more autonomous machines.

Kersting You can already see cases of that today—for example in the big mines in Australia, where gigantic masses of material have to be moved from A to B. This approach is already making good progress there—of course it's in a simple setting, because a mine is a closed area.
concepts Today there's a growing ecosystem of startups related to "proptech." What kind of role is AI playing in this area? Should the construction industry be paying attention to these young companies early on?

Kersting That's why we're building the Hessian Center for Artificial Intelligence in Darmstadt, a project that HOCHTIEF Nexplore is also participating in. We're trying to create an ecosystem that is as large as possible, also in order to support startups. The question we're asking is: How do we bring current research into these companies? For example, one topic is the creation of a powerful computing infrastructure. Answers to some of the questions we have can't be calculated in two days of work on a normal computer. If we enter into partnerships in this area, we can easily fill the gaps between other AI players in the world, such as China and the USA.

Koch There's a lot going on in the proptech and construction tech markets. Meanwhile, many investors regard the construction industry as one of the last "greenfields." Massive funding is now flowing into this area. Many startups are benefiting from that, and lots of exciting things are being developed. We've been scanning the startup scene for three years now, and we're also involved in intense dialog with it. But these companies have two problems. Real-life tasks and problems are not easy to solve or to understand. As a result, their products don't fully meet the requirements of construction sites or companies. Besides, the startups often don't have the data.
concepts And large volumes of data are needed, especially for AI applications.

Koch That's absolutely right, and I'll give you an example: We're developing a quality check for concrete that works by means of image recognition. We watch how the concrete flows down a chute out of the mixer. By assessing the flow behavior and other parameters, we can judge the quality of the concrete. But this method works only if thousands of cubic meters of concrete are being used in a project. This means that a startup would first have to have access to the data in order to perform this task. In my opinion, that's why these companies have still not had resounding success in this area. But we're observing the situation, and we're interested in cooperations.

Kersting I can only agree with that. It's another reason why we're happy about our cooperation with HOCHTIEF. Because it's an internationally operating group, we can compare the data coming from Hamburg and from Hong Kong. That's a genuine opportunity.
concepts Mr. Kersting, you've already mentioned competition with the USA and China in the field of AI research. In what areas could Germany and the rest of Europe still score points?

Kersting Many researchers from Germany and the rest of Europe are very prominent in the field of AI research. We shouldn't be hiding our light under a bushel. The crucial factor is to develop the ecosystem. I believe that we've got very many opportunities in Germany and that we can quickly create successful projects that are similar to those of other countries.
concepts Mr. Koch, will Nexplore make its know-how and its products and software solutions available to others?
Koch We work in joint ventures on practically all of our large-scale projects. As soon as we build a tool for a project, it's automatically also used by our competitors. And that's a good thing, because we ultimately have to change the operating model in the industry as a whole. It's not enough to simply operate differently. We're embedded in a network of suppliers and subcontractors, and we have to take them with us. However, we want to be at the forefront by developing this together with our specialists and then making it available to others.
concepts How can digitalization contribute to sustainable construction?

Koch We are convinced that the extremely resource-intensive construction business can still be optimized with a view to sustainability. It's a very broad field, and we also have a big interest in it. Among other things, Nexplore is one of the 13 members of the Climate and Sustainability Consortium of MIT—as the sole representative of our industry. In this consortium we work to develop visions of how we can make our industry and other areas more sustainable in the future. We in the construction industry can certainly contribute to this effort. For example, the Fraunhofer Institute collaborated with our HOCHTIEF engineering unit IKS to develop a battery technology that combines huge concrete spheres with a turbine underwater. It's a very sustainable project that even functions as an artificial reef in the ocean. These gigantic spheres will be so heavy that they have to be produced on site, and that is extremely hard to do with traditional formwork methods. We would now like to try out 3D printing for this purpose.

Kersting We have to tackle the really great challenges that are facing the human race in an interdisciplinary way. I would like to include such issues in our teaching activities at some point. Students ought to see early on that we can and should think globally and within networks. And we have to prepare them to work in interdisciplinary teams in the future.
Koch That's exactly why we're involved in the Hessian Center for Artificial intelligence. In the past two years we've worked together with Nexplore to develop a digital platform, and we want to use this platform together with industry, universities, and startups in order to pool our strengths. There are many issues which it wouldn't make sense to address as individuals. Autonomous driving is one of them. We believe that we can enrich one another.

Kersting The cooperation with HOCHTIEF was a door-opener that enabled us to build the ecosystem around the university. After all, we want to build a reef on which a variety of animals and plants can live, and now we've taken the first step. And of course I'd love to have an Elbe Philharmonic Hall in Darmstadt, but that's a whole other issue.
concepts Mr. Kersting, Mr. Koch, thank you very much for this talk!
PROF. DR. KRISTIAN KERSTING
The 48-year-old IT specialist heads the Artificial and Machine Learning Lab at the Technical University of Darmstadt (TU Darmstadt) and is the Founding Research Co-director of the Hessian Center for Artificial Intelligence (hessian.AI). In recognition of his work he received the German AI Award in 2019.
DAVID KOCH
The architect is Chief Risk, Organization and Innovation Officer of HOCHTIEF, and the CEO of Nexplore. Until 2015 he was a partner at the architecture firm Herzog & de Meuron, where his functions included joint responsibility for the construction of the Elbe Philharmonic Hall in Hamburg.
AICO
The research cooperation established by the HOCHTIEF company Nexplore and the Technical University of Darmstadt is unique in its field. The cooperation is focusing on the question of how artificial intelligence can be used in the construction industry. The collaboration lab
"Artificial Intelligence in Construction" (AICO)
of TU Darmstadt and HOCHTIEF was launched in April 2020 and plans to operate for an initial four years.
THE HESSIAN CENTER FOR ARTIFICIAL INTELLIGENCE
The

"hessian.AI"

based at the TU Darmstadt is associated with 13 universities in the German federal state of Hesse. A total of 20 professorships have been established. HOCHTIEF Nexplore is one of the center's more than 40 partners.
COOPERATION
The partners of Nexplore include, in addition to TU Darmstadt, the Massachusetts Institute of Technology in Boston, the Polytechnic University in Madrid, and Minnesota State University.
NEXPLORE: A GLOBAL PLATFORM

Nexplore was founded by HOCHTIEF in 2018 as a Group-wide platform for digital innovations. It cooperates with scientists and leading universities all over the world in order to shape the transition to the digital future of construction and service activities.