© Stadt AN
INFRASTRUCTURE
Growing the subway network
Nuremberg is the only city in Germany with a subway network in which the trains of two lines operate without any drivers. HOCHTIEF has already built several sections of the subway network. Now it has also been commissioned to complete the latest expansion stage: an over two-kilometer-long extension of the U3 line in the city's southwestern district.
The driving of the first pile of a new subway project is normally a cause for celebration. However, in Nuremberg in southern Germany the planned event, with high-ranking guests from the world of politics, had to be canceled because of the coronavirus pandemic. The construction work began nonetheless. It consists of two new subway stations as well as tunnel sections, some of which will be built using a mining technique while others will use the cut-and-cover construction method. The city of Nuremberg has commissioned a joint venture under the technical supervision of HOCHTIEF to carry out the structural work, which will cost 106 million euros in all. Adrian Diaconu, the Vice President of the Southeast Region of HOCHTIEF Infrastructure, hopes to meet the politicians on another occasion. One opportunity might be the excavation ceremony, which will be held when the portal wall of the U3 line's future terminal near Schweinau has been built and the most difficult construction phase begins: the construction of two 600-meter-long single-track tunnels running toward the city center under the Main-Danube Canal.
At the deepest spot under the canal, the subway tracks will lie about 19 meters under the water's surface. In other parts of the new section, the tracks will be only about six meters down. Diaconu, who was born in Romania and is now 52 years old, has lived in Germany for half of his life and has worked at HOCHTIEF for almost as long. In 2001 the company commissioned him for the first time to build a subway section yard in Nuremberg. In a yellow container next to the open foundation pit, Diaconu, a construction engineer, tells us that back then he fell in love with the city. When he was once again sent to work in Nuremberg in 2007, he and his wife decided to move there from their former home in Frankfurt am Main. In Nuremberg he managed other subway projects, first as a site manager and then as a project manager. Today he is a Vice President and is responsible for projects in all of Bavaria and beyond. Still, he's especially pleased to be working in the city he now calls home. "When my daughters ride the subway, they think, 'Our dad built this station'," he says.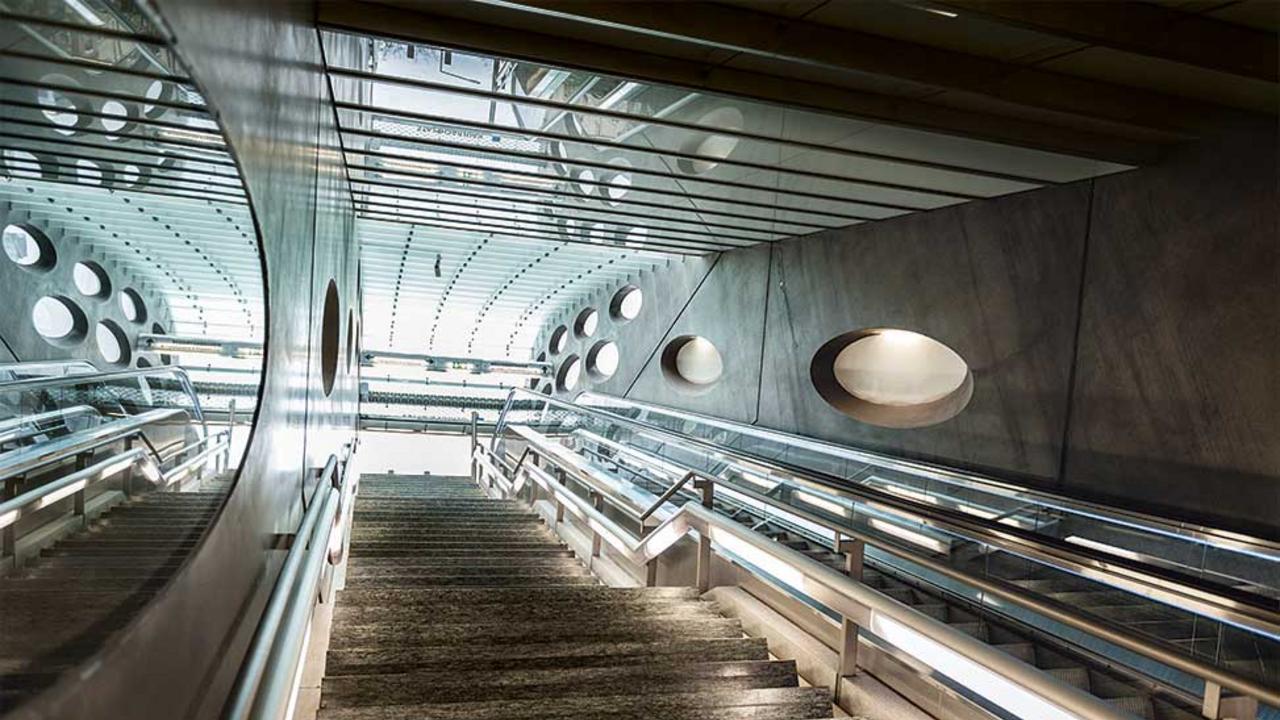 Diaconu has already been responsible for the construction of about four kilometers of Nuremberg's subway network and five subway stations. That's about ten percent of the total length of the Nuremberg/Fürth subway network, which is almost 40 kilometers long and has 49 subway stations. He's familiar with every meter of the tunnels, says Diaconu with a touch of pride. When the latest project is completed three years from now, the network will be over two kilometers longer and will have two more subway stations. This is how Diaconu describes his fascination with tunnel construction: "With every meter you dig, you are standing on a piece of earth where no one has ever been before you." In Nuremberg this earth mainly consists of reddish-yellow sandstone. As long as it's densely compressed in the ground, it's as solid as stone, but as soon as it's ground up by the rotary grinder and comes into contact with water, it changes into sludge. "Dealing with that is a special challenge in tunnel construction," says Diaconu. Once his team came upon a sinkhole filled with sludge, which they had to freeze. Diaconu doesn't know whether the sinkhole was due to an old building foundation or a bomb. In any case, his team hasn't yet found a bomb—and that's a rare pleasure for construction projects in Bavaria's secondlargest city, which was a major target of the Allies' bombing raids in World War II.
It makes no difference to a tunnel construction project whether the subway trains traveling through it later on have a driver or not. All the same, the tunnel builders can be proud, given the nationwide renown of the U2 and U3. Nuremberg is not only the smallest German city with a subway network—so far it has also been the only one with two driverless subway lines. When the "ghost train" started operating regularly in 2008, a few locals were critical, and some were even frightened. Today such opinions have vanished. Almost always, children and tourists press their noses against the front windows and gaze into the dark tunnel ahead. From 2025 on, the driverless subway trains will also be rolling to the southwestern tip of Nuremberg, where meadows, fields, and single-family houses have created a rural atmosphere. Diaconu assumes that things will not stay that way in the future. "First comes the subway, then land development. That's the ideal sequence," he says.