IN FOCUS
Hamburg, Berlin and Prague
"Spirits of the time" are ephemeral creatures. In the course of history, many things that were once hailed as modern have long fallen out of fashion. Walking sticks and jaunty hats, roast meat with gravy, and tube TVs in rustic wall units are now out. And since the 1970s at least, we've also grown tired of car-friendly city centers that are full of asphalt but nearly empty of people, at least after the stores close. Hamburg's city center, for example, is practically deserted after nightfall. In recent months this vacuum was partly due to the coronavirus pandemic, but basically it only revealed, more clearly than ever before, the results of misguided urban development.
Here as in almost every other European metropolis, when evening falls the streets and squares empty out at the same pace as offices and boutiques, even without a lockdown or a curfew. The club scene in St. Pauli really comes to life after dark, but the buildings on nearby Grosser Burstah Street , once the pulsating heart of this Hanseatic trading city, roll down their shutters. However, HOCHTIEF is currently realizing an exciting construction project on this street close to Hamburg's famous City Hall.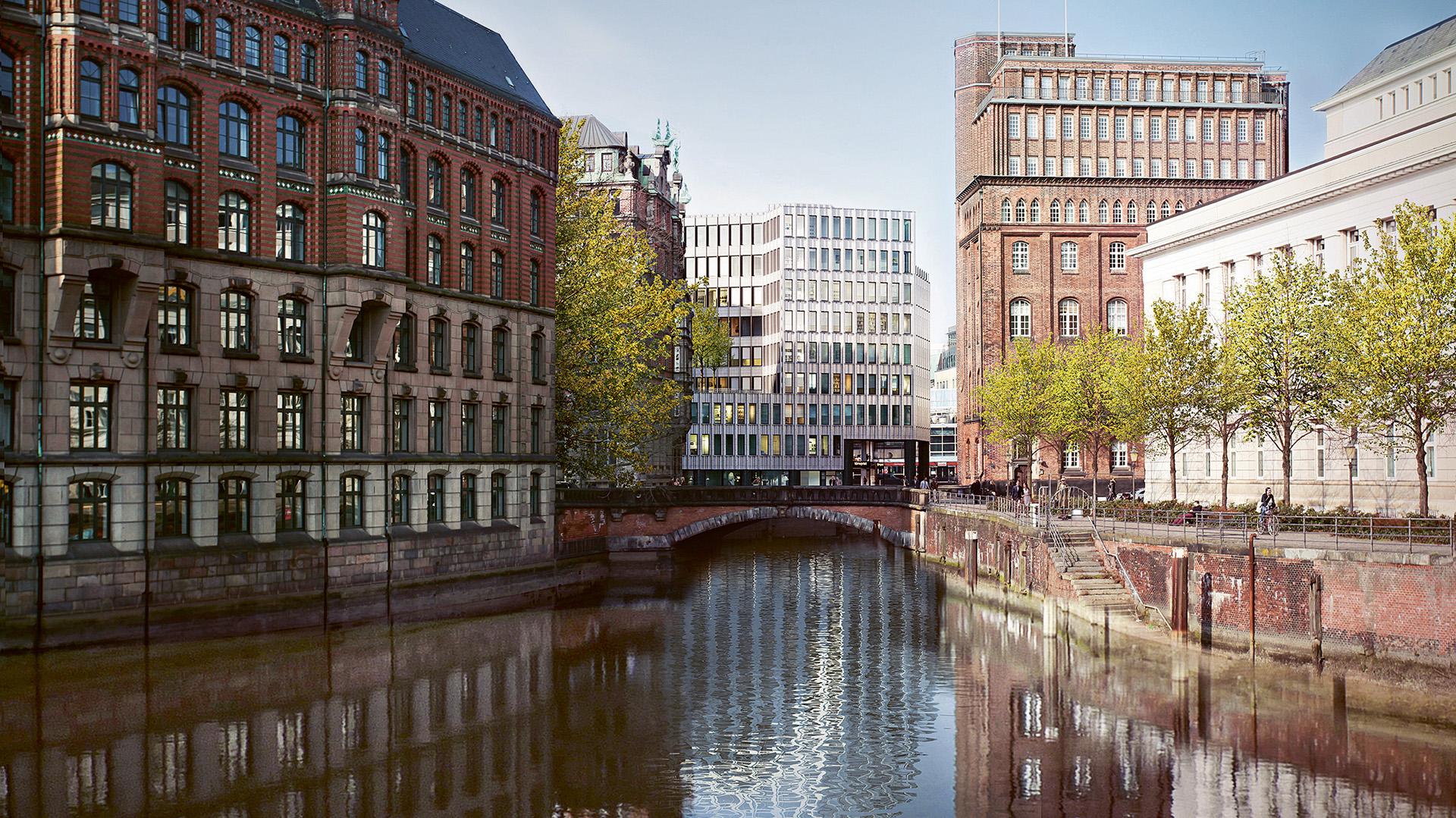 BREATHING NEW LIFE INTO CITY CENTERS

Grosser Burstah Street, which was first settled over 800 years ago, was the original site of the seaport of Hamburg. Long into the modern era, it was a scene of almost nonstop hustle and bustle: living and working, homemaking and recreation, noise and activity. But the rebuilding after the destruction of World War II leveled, divided up, and depopulated this central district.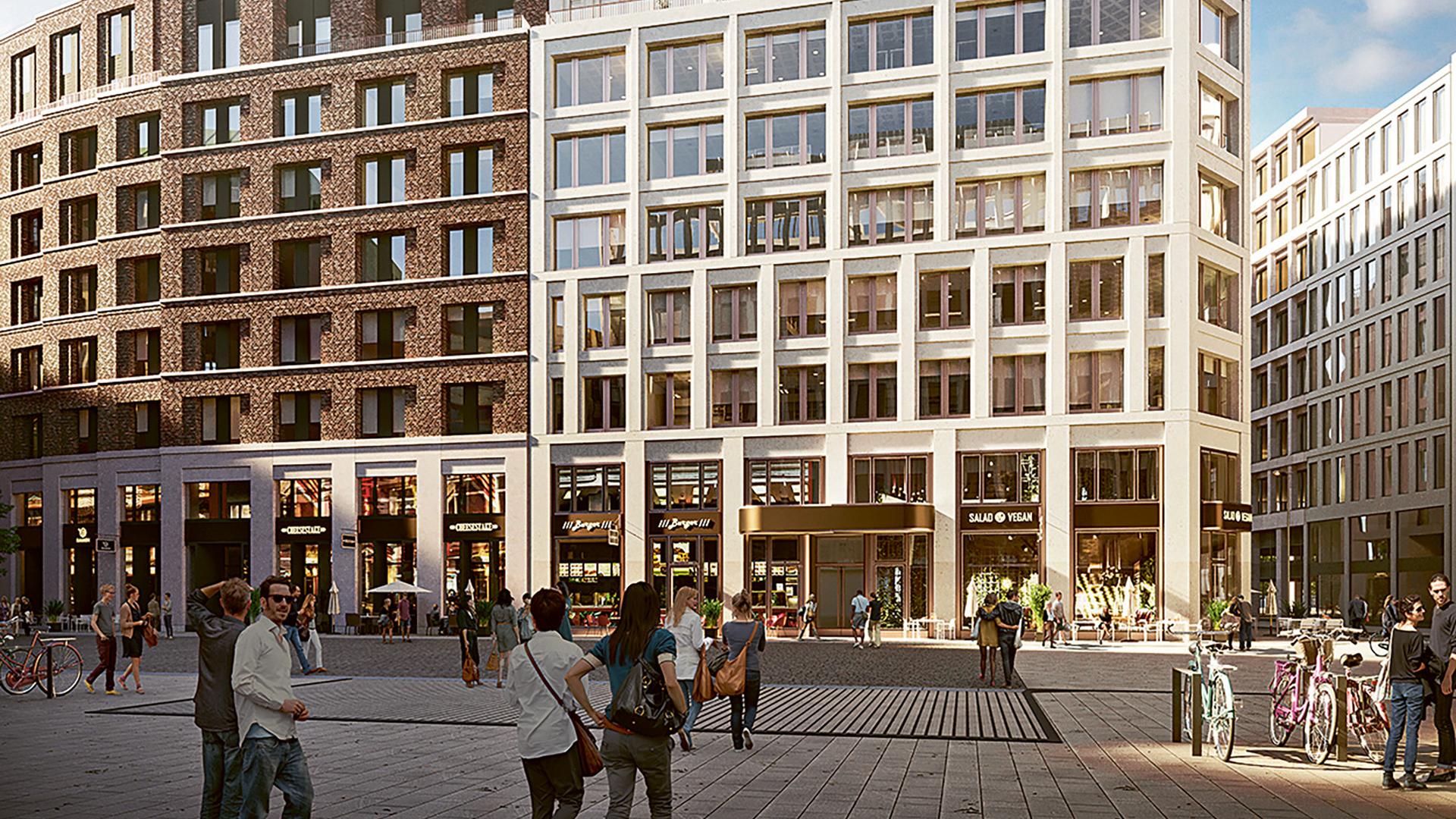 Since mid-2020, HOCHTIEF has been constructing a new piece of the Old Town—or rather, an old piece of the new city—here between the former stock exchange, a modern savings bank, an archaeological dig, and a six-lane arterial road. On the former site of a company headquarters building that had swallowed up entire streets in 1969, HOCHTIEF is creating no less than 44,000 square meters of gross floor space. Carefully embedded in its historic environment, this future complex will offer a mix of uses that is rare in such exclusive urban settings, here and elsewhere. In a district where hundreds of thousands of people shop daily but residents are very few, early 2023 will mark the opening of not only 60 commercial and office units but also nearly the same number of apartments. In addition, three-story underground garages will minimize the need for above-ground parking areas, and in the freed-up areas HOCHTIEF will realize a sustainable mobility concept with 522 bicycle stands and an excellent link to local public transportation. Enhanced with lush green spaces, a playground, restaurants, and opportunities to linger, Hamburg could flourish anew. "The original urban environment that used to exist is coming to life again," enthuses Torsten Steiner, the Senior Project Leader at HOCHTIEF Infrastructure. The Burstah Ensemble is almost automatically contributing to the city center's renaissance—a local initiative of policymakers, businesspeople, and representatives of culture and tourism. Their shared goal consists of five measures for enhancing the quality of life: more pedestrians and cyclists, more buses and streetcars, more lighting and plants, more diversity and culture, and more open spaces and apartments. In Hamburg, they aim to demonstrate how to revive moribund and sterile city centers.
RETHINKING OLD STRUCTURES

Almost 300 kilometers to the east, the architecture firm Herzog & de Meuron, which is based in Basel, has set very similar goals for its Am Tacheles urban district project. One of the last big vacant lots in the heart of Germany's capital can look back on an eventful history. In 1990 the artists' collective Tacheles occupied the remains of the former Friedrichstrassenpassage shopping center, most of which had been demolished in the 1980s in order to build a street. The remaining structure on Oranienburgerstrasse was dilapidated but could be renovated, and the art collective wanted to protect it from the planned final blasting and create an independent art center there. They successfully registered it as a protected historic monument and ran it as an event center with an open-air space for cultural events until they were evicted from it in 2012. Since then this prime piece of real estate, with almost 23,350 square meters of floor space, has been waiting for a future that is different from the usual block designs with chain stores on the ground floor and high-quality offices above them. HOCHTIEF is now working hard to create this better future.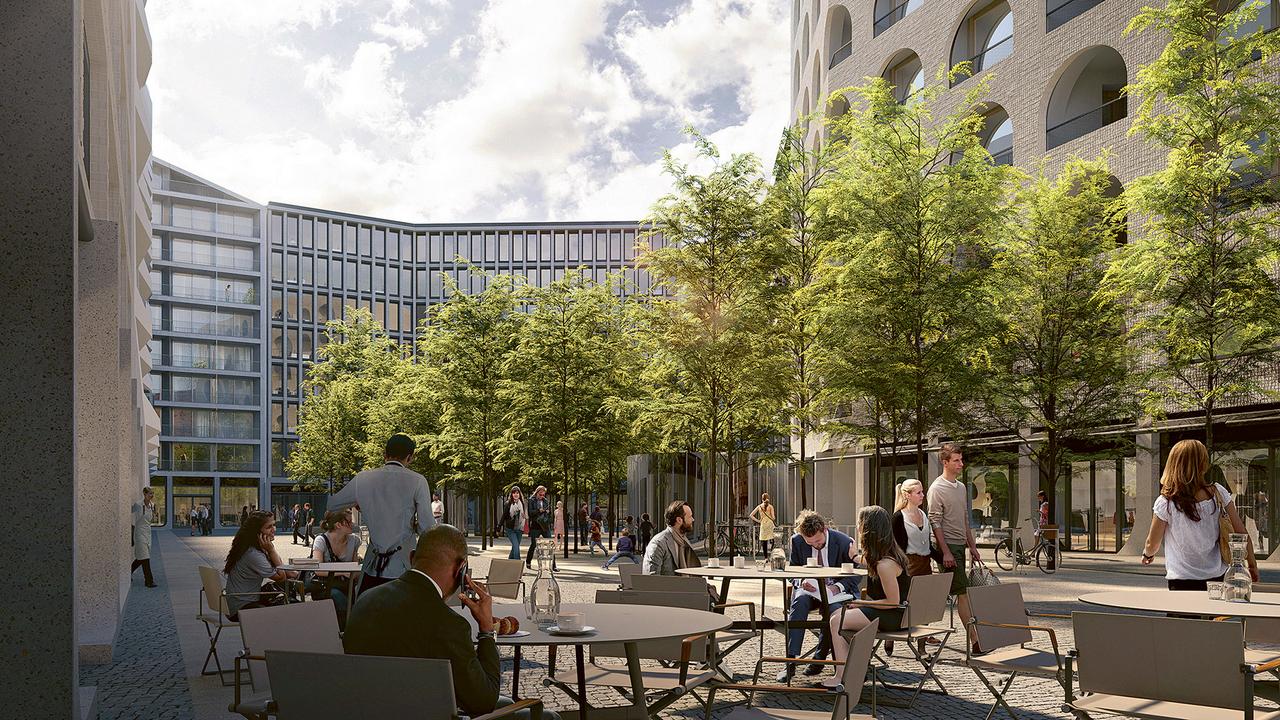 "WE WANT TO MODERNIZE HISTORY SO THAT IT'S FIT FOR THE FUTURE WITHOUT DENYING THE PAST."
CLAUDIA BOHEIM, HOCHTIEF BERLIN
The master plan of Herzog & de Meuron, which is based on the structures and spirit of the Scheunenviertel ("barn district") and the historic footprint of the Friedrichstrassenpassage, brings all of these elements together. In this new urban district, which is divided into ten construction units, the company is mainly building offices on Friedrichstrasse and apartments along quiet Johannisstrasse. In the midst of it all, in and around the squares and pedestrian paths, there will be room for businesses and catering outlets. "Here arises lots of spaces where people can interact," explains Claudia Boheim from the Berlin branch of HOCHTIEF. She remembers the area from its use as a cultural center, where she too used to attend festive events. And she says that Germany's only genuine metropolis could do with a bit more human interaction.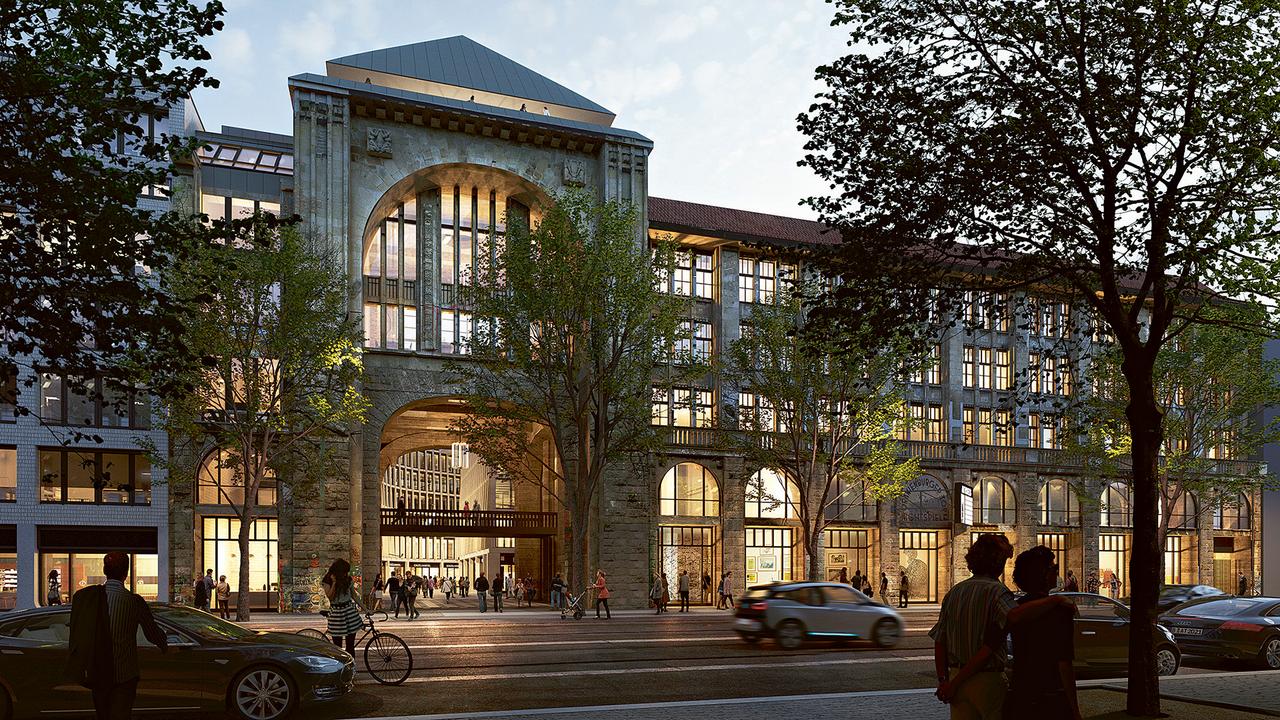 Nonetheless, the Am Tacheles project is definitely not aiming to simply move backwards by restoring the site's original condition. Instead, the project is oriented toward architectural archaeology in that it uncovers layers of historical structures and characteristic features of the Scheunenviertel. "We want to modernize history so that it's fit for the future without denying the past," says Boheim, who is responsible for the project's commercial aspects, about her cooperation with Herzog & de Meuron.
In a video produced by HOCHTIEF, Boheim's ex-colleague Christa Panitzsch shows how HOCHTIEF defines this goal. Panitzsch, who had worked at the company for 50 years, was until recently the team assistant for the Am Tacheles project. She is now 67, but briefly came back from retirement just for this project. In the film, she is visibly moved as she takes the viewers on a tour of this neighborhood, where she spent her childhood. "The entrance of the movie theater was here. This was where you could buy candy," she says in her Berlin dialect above the din of busy workers. Next door were hairdressers, butchers, fruit stands, and a whole neighborhood—all gone, but all ready to return soon.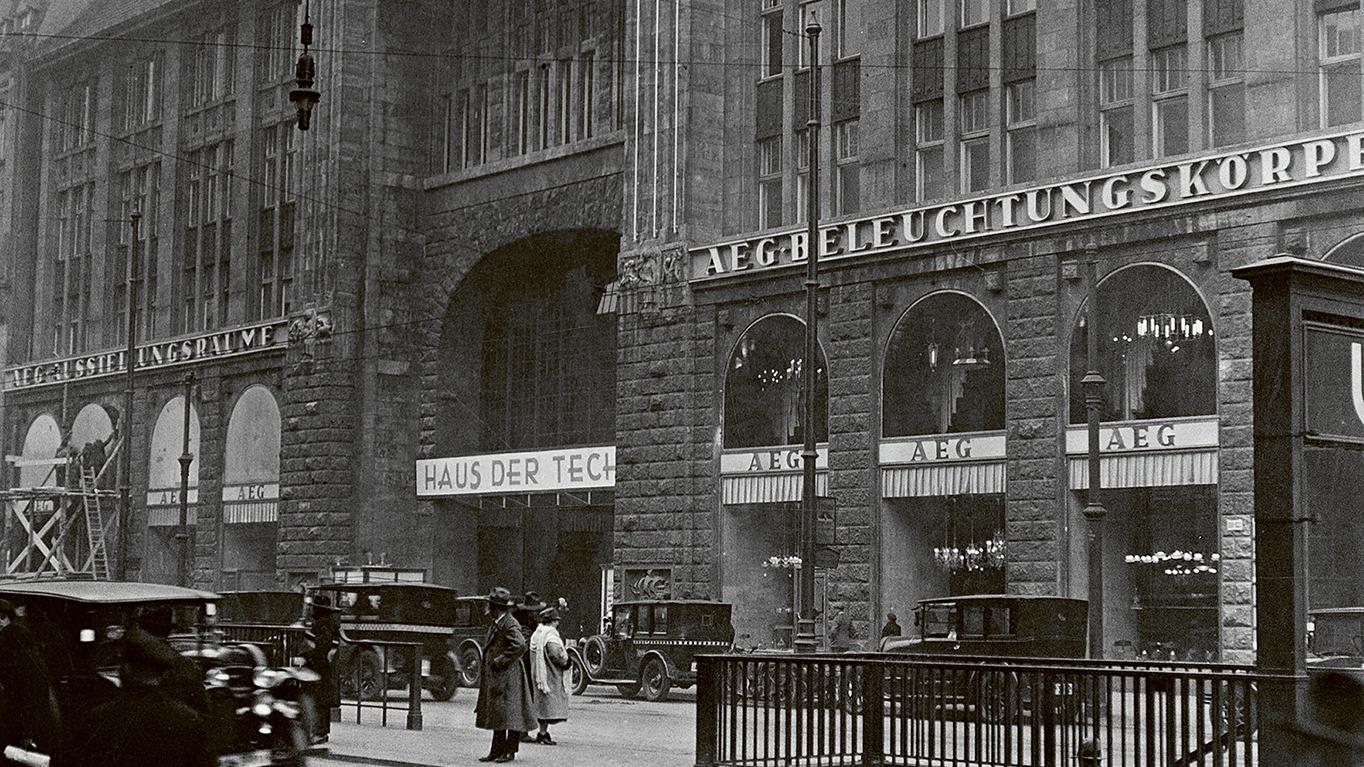 Today the appeal of retail stores is no longer enough to make urban centers attractive, so the Am Tacheles urban district is already moving in a direction that takes climate change as well as post-pandemic conditions into account. Social and environmental factors were also considered in the design and the diverse uses of the squares, pedestrian paths, and courtyard garden. Apart from prioritizing sustainable mobility, the construction units are being "greened" not only horizontally on roofs and streets but also vertically along the facades.
Besides improving the local quality of life, the microclimate, biodiversity, and utility for everyone, this promotes the factors that—according to the "Future Institute" of the Frankfurt-based trend researcher Matthias Horx—will make cities more resilient in the face of future crises. These include climate-friendly, socially mixed, health-promoting, low-emission, and resource-saving village structures in urban neighborhoods.
RESTORING AN URBAN SPACE

That's just what the beautiful city of Prague is planning for one of its most significant spots, Wenceslas Square. "It's actually more like an especially broad street," says Michal Talián, who is responsible for communication at HOCHTIEF CZ, describing this grand 750-meter-long boulevard. Horse-drawn carriages rolled along it in the Middle Ages, tanks in 1968. After World War I it was a promenade for the bohemian scene; before the Berlin Wall fell, it was a hotbed of resistance. In spite of its elegant Gründerzeit architecture, today it's dominated by a profane mix of mass tourism, functional offices, street vendors, and nightclubs.
"It's not exactly the Bronx," says Talián with a laugh as he analyzes this hallmark at the heart of his home town, "but after sundown this neighborhood is definitely not the most family-friendly area in this city, which is otherwise safe." But things are changing, because HOCHTIEF, commissioned by the city government, recently began to restore Wenceslas Square to its former glory. In a two-year construction phase, it will widen the sidewalks and remove the curbstones, keep 30 mature linden trees and plant 48 new ones, and remove marble bollards—callously made from Jewish gravestones. The aim is to help the many guests from all over the world, and especially the neighborhood's few residents, to feel a bit more comfortable, even after dark. Talián is concerned about the scarcity of residents in the city's historic center as a whole. Like other high-quality hotspots, Prague too suffers from a residential crisis. Dominated by tourists, weakened by Airbnb, choked by gentrification, and "freed" of local residents, the center has long been deprived of genuine daily life after the rush hour. The restoration, which is worth 20 million euros, is certainly aimed at beautification, "but the revitalization is even more important," says Talián. He quotes a sentence from an article in a local newspaper: "The project will once again make Wenceslas Square the most exciting spot in the city."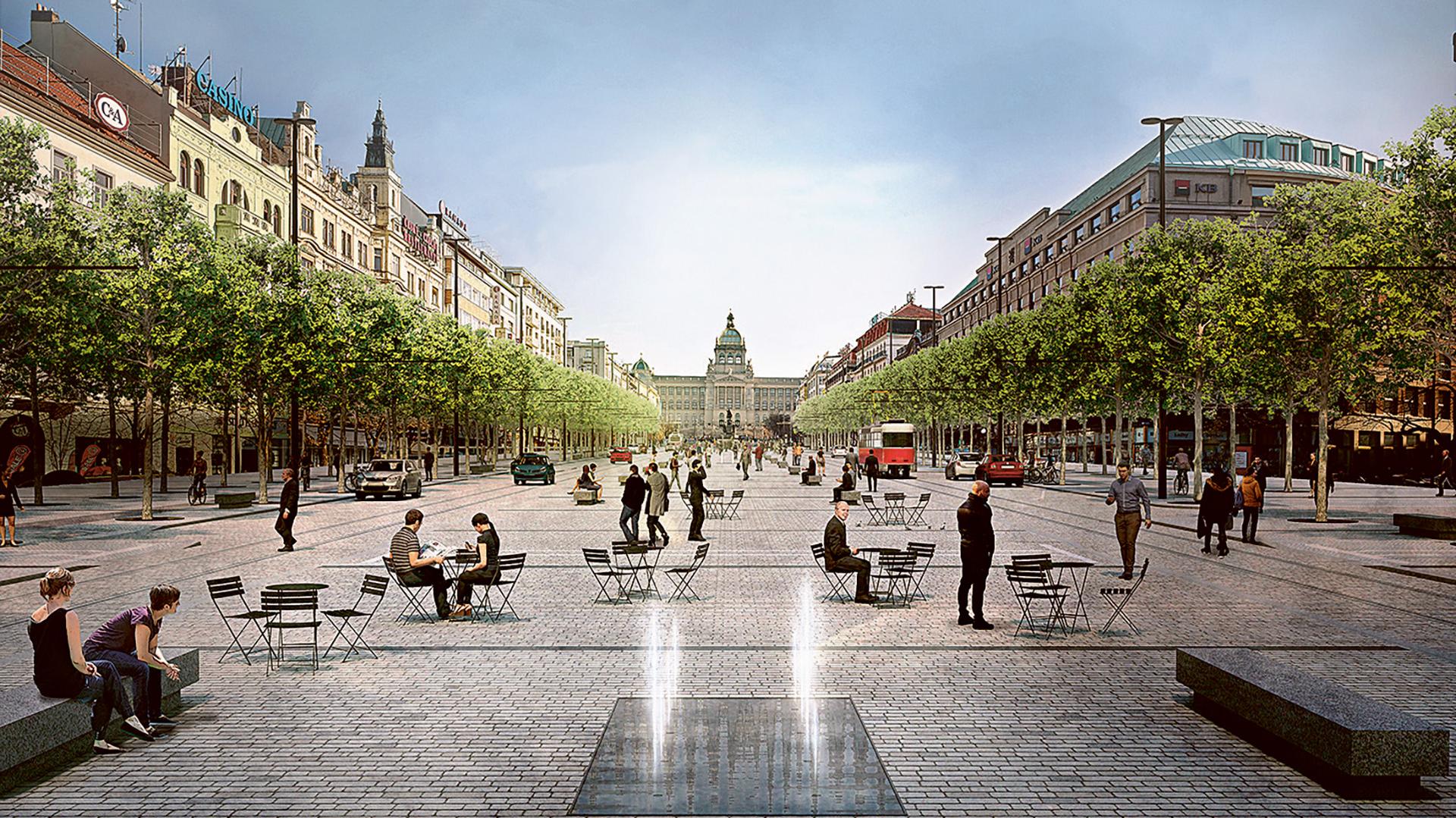 THE CITY OF THE FUTURE

Cities should be attractive venues for spending time, settling down, shopping or working, and that means they need to be simultaneously modern and historic, organized and authentic, busy and cozy. The deserted city centers that could be seen during the pandemic lockdowns have clearly shown yet again how important it is to pay attention to these aspects of urban living and to nurture them.
In the future, when the new residents of Hamburg's Grosse Burstah gather along the Fleet on a mild summer night, when the Berlin district known as Am Tacheles invites visitors as well as housemates to an artistic performance, and when the revitalized Wenceslas Square in Prague turns the night into day without scaring off the locals, we'll be able to say that city centers and neighborliness are not mutually exclusive.
Text: Jan Freitag